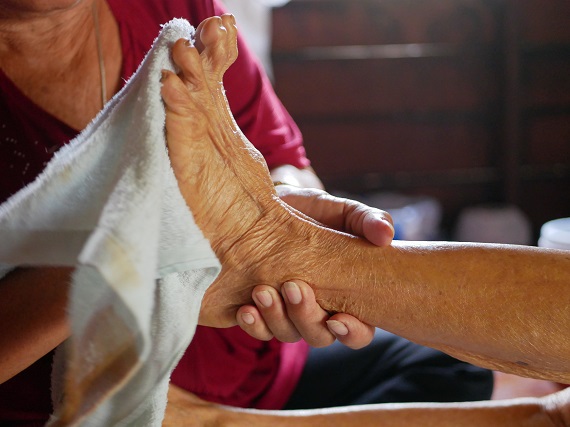 A fungal infection of the skin and feet, an Athlete's foot appears as reddish and inflamed skin fissures commonly found in between feet and toes. It is also itchy. Hygiene issues are the topmost reasons why people obtain Athlete's Foot. Avoid this by regularly washing your feet with anti-fungal soap and water. Don't confine your feet on tight shoes for longer hours as well because doing so also leads to Athlete's foot.
Old age might hinder you from following a hygienic routine because movements are already limited. Harmony Care LLC, your home care in St. Louis, Missouri, has caregivers who can help you with your hygiene needs.
Personal care begins with cleaning your feet and keeping them dry, especially the part where nails grow to avoid housing bacteria.
We can also wash your shoes for you so that your footwear is clean and comfortable to use. We can't allow you to walk barefooted, especially in public areas because that is where bacteria can also come from. Moreover, we'll help you choose breathable socks and ones not made of fabric so that you can immediately remove them from your feet when you happen to step on wet surfaces. Finally, we know some topical creams you can utilize and medications you can take to treat your existing Athlete's foot.
We take full responsibility for the health of our patients, so if you wish to try our in-home care services in Missouri, our lines are always open for you. We will willingly cater to the needs of your loved ones, especially their personal care needs because we believe that hygiene promotes health.
Contact us to learn more about our consumer directed services!